Beyond Compare Program
Posted : admin On

8/29/2021
Copy/paste is my favorite method for creating new SAS programs. In my work projects, I maintain a sort of genealogy of SAS programs, because the DNA of one program can be used to spawn many other SAS programs as its progeny. When things (inevitably) aren't working as I intend in one of these next-generation programs, I find that I need to compare that program against the original to see what I've missed.
To run a Beyond Compare script at any desired time: 1. In Windows Task Scheduler, pick Action Create Basic Task to get a wizard. In Action, pick Start a program. In Program/script, pick the Beyond Compare 4 executable. In Add arguments, add a reference to your script file: @ Sync.txt. In Start in, pick the script folder: C: My. Specialized Viewers Beyond Compare includes built-in comparison viewers for a variety of data types. Compare.csv data or HTML tables in a Data Compare session, or images in a Picture Compare session. 3-way Merge Beyond Compare's new merge view allows you to combine changes from two versions of a file into a single output. Its intelligent.
My file-comparison tool of choice is WinMerge. It's free and easy to install and use. That's why I'm really pleased with the new Compare Programs feature in SAS Enterprise Guide 7.1.
Here is how you set it up.
1. Install a file comparison tool.
I like WinMerge. But some of my colleagues prefer Beyond Compare or KDiff. Your choice! Most of these tools can integrate with your file system so that you can compare any two files from Windows Explorer. They also integrate with source control systems, if you use those (Git, Subversion, etc.).
2. Set your File Comparison options in SAS Enterprise Guide
Select Tools->Options, then the File Comparison tab. Check 'Use custom file comparison tool' and then select your tool of choice. There are built-in presets for the three comparison tools that I mentioned, or you can go 'off road' and select your favorite with 'Other'.
3. Select the two files that you want to compare
In the Project Tree or Process Flow, you can select multiple programs by using the standard Ctrl+Click sequence or by 'rubber banding' a selection with the mouse (Process Flow only). When you have exactly two programs selected, right-click and select Compare.

The comparison tool launches with the contents of each program loaded for comparison. Here's what mine looks like: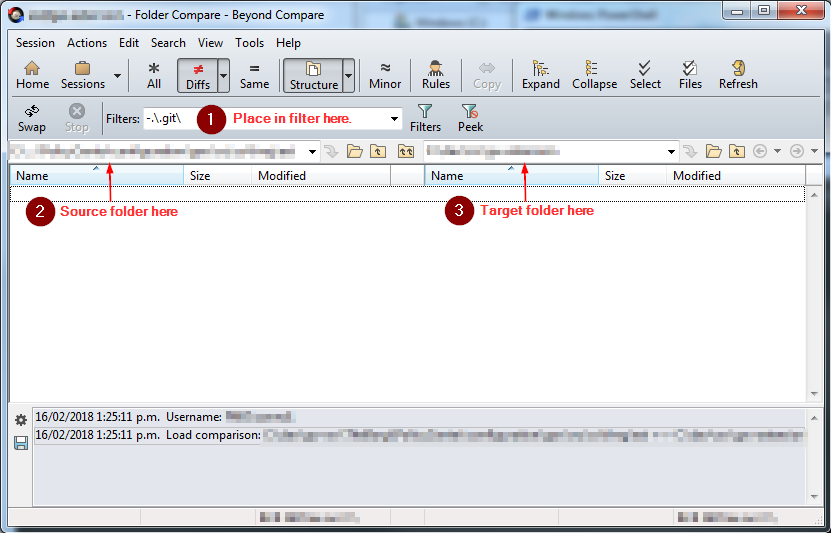 Some additional notes:
The content you see in the comparison tool is a copy of your program. Therefore, if you use the comparison tool to make changes, these won't be reflected in your SAS Enterprise Guide project. Of course, you can copy the changed content to the Windows clipboard and paste it into the SAS Enterprise Guide program editor.
You can do more with file comparison when using the Program History feature, which I introduced in this blog post about new programming features in SAS Enterprise Guide 7.1.
There are several ways to compare folders and files.
If you want a quick look at what has changed between two folders, it might be sufficient to just look at the dates and sizes of the files. If you are validating a CD copy, then a byte-by-byte comparison of every file is important. If you are comparing versions of source code, perhaps you want to consider only significant changes and ignore differences in whitespace or comments.
Session settings define how, overall, a Folder Compare session should compare folders when the session is loaded. Comparison criteria include file timestamps, sizes, attributes and contents. Once the session is loaded, you can selectively recompare files by picking Actions > Compare Contents or by opening the files in a file session. Vag tacho 3.01 driver download.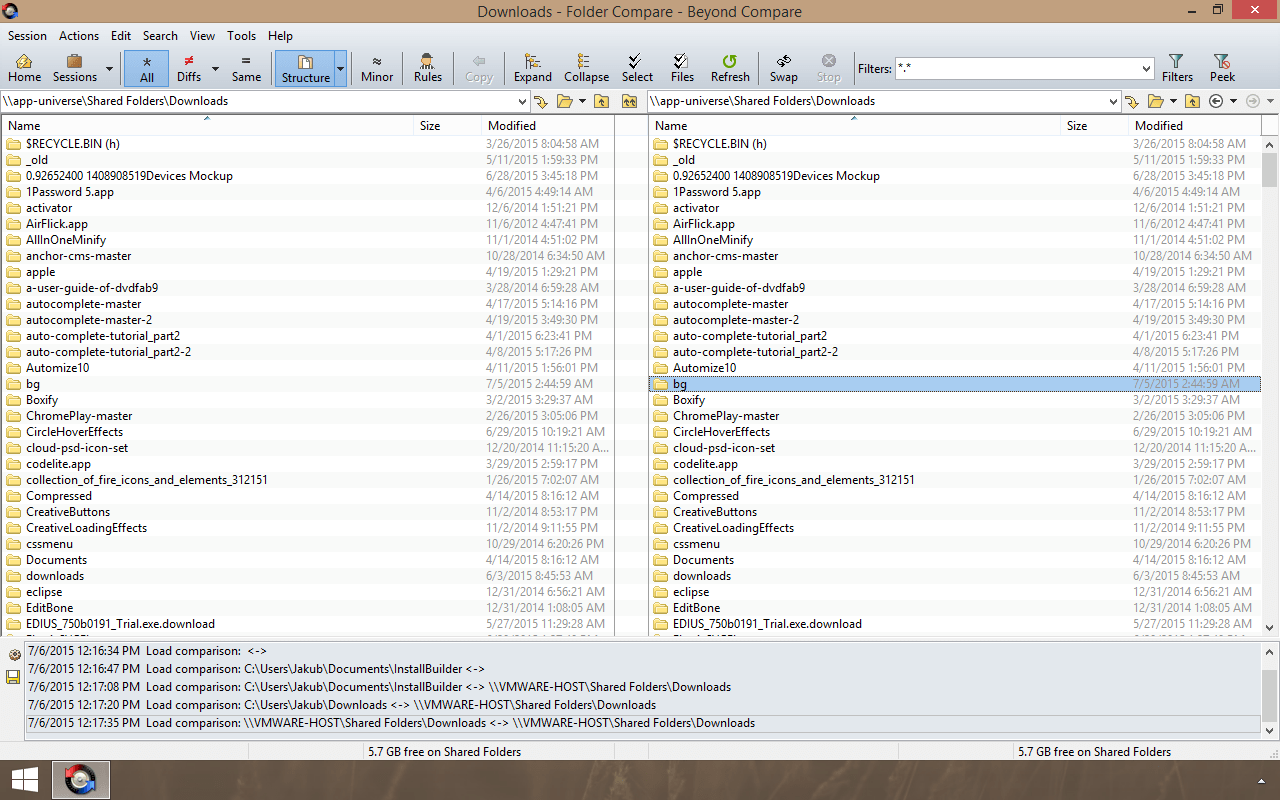 Generally, these criteria are used to compare files, and not folders directly. For instance, a folder's timestamp does not affect the comparison. A folder is classified as 'newer' if it contains newer files. Folders are compared by aggregating the comparisons of files within them.
Certain facts about a file can be determined quickly while others take some time. In the Session Settings dialog, the Comparison tab is organized into Quick tests and Requires opening files. File systems typically provide fast access to file names, sizes, and timestamps (the date and time last modified). But to get the CRC of a file, the entire file will need to be read. Keep this in mind when selecting folder comparison criteria.
The display aligns files and subfolders of the same name, left and right. Pick View > Ignore Folder Structure to align files regardless of what subfolder they are in.
You can modify the alignment by defining alignment overrides.
Beyond Compare Portable
See also